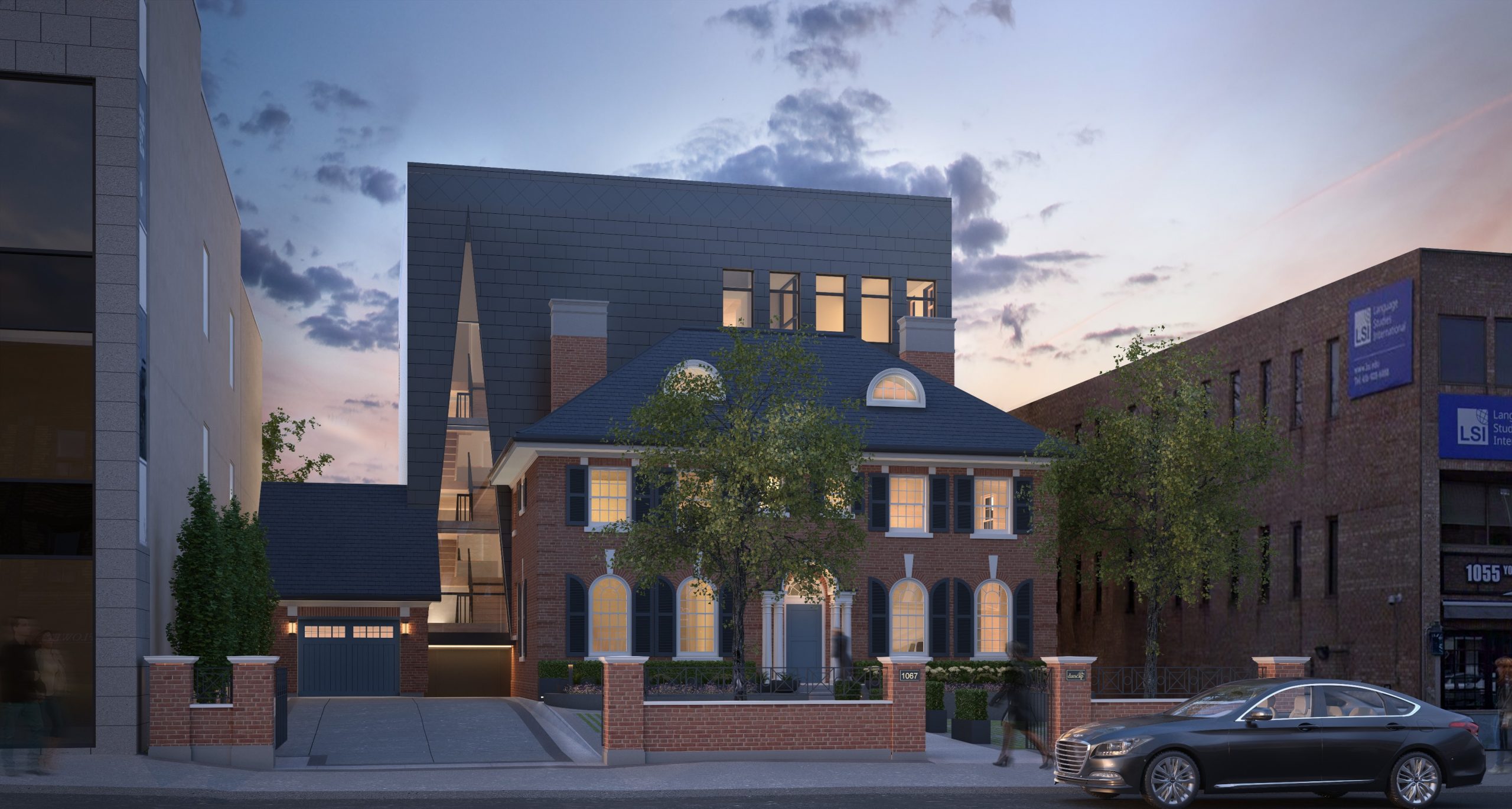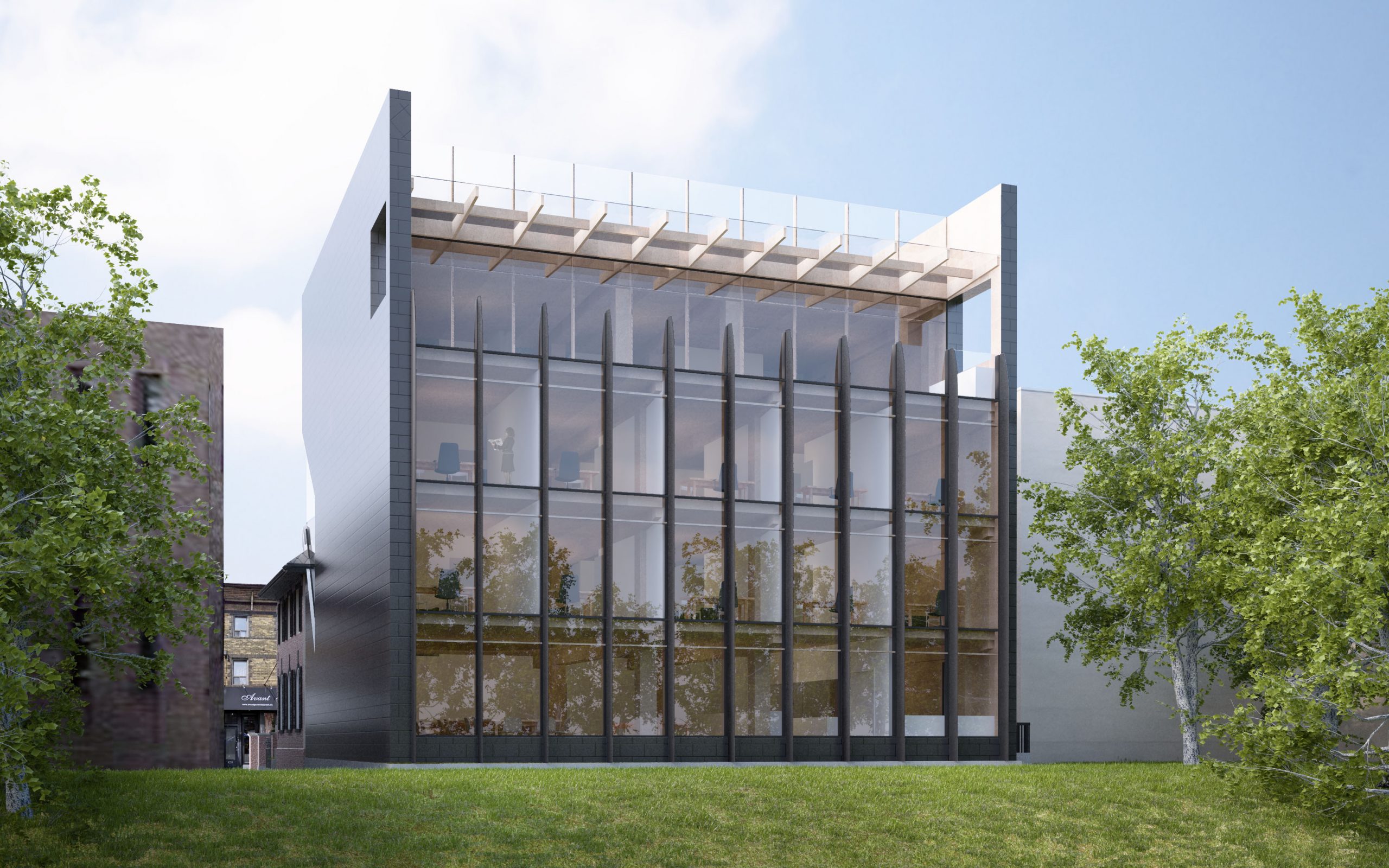 2020-12-19 1067 YS 60inch-r
1067 Yonge Street is the new home of Dancap Family Investment Office and the Aubrey & Marla Dan Foundation. The new headquarters blends an existing century house with a high-performance, mass timber addition, reinforcing Dancap's commitment to preserving Toronto architectural heritage, while taking the lead in creating sustainable legacies going forward.
The existing Georgian Revival house, constructed in 1914 for Jennie Elizabeth Jarvis, widow of Lieutenant-Colonel Salter Mountain Jarvis, serves as the development's base. City records show that the original house remained in the Jarvis family until 1928, after which it was repurposed into a funeral home from 1935 to 1946. Following the Second World War, the Goethe Institute acquired the property for its offices, built a three-storey addition to the rear, and converted it to their teaching centre. Subsequent iterations as a commercial office space during the early part of this century culminated in the acquisition by Dancap in December 2018.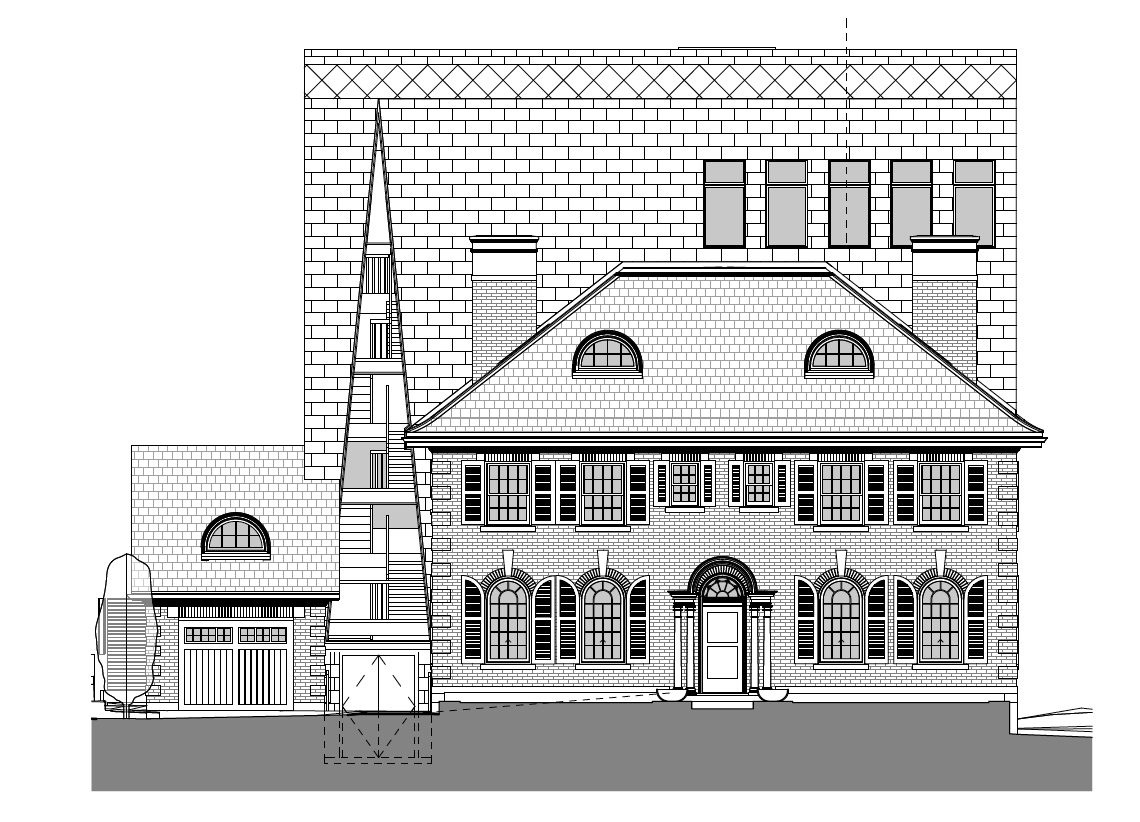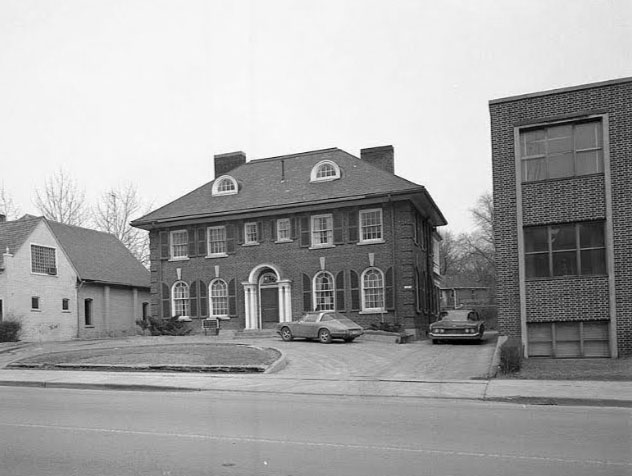 The original Georgian Revival house is structurally sound; however, the 1950 rear addition is not due to successive decades of haphazard internal renovations, along with poor-quality exterior reparations. Dancap is committed to its full restoration. All original architectural elements, including slate roof, eyebrow dormers, muntin windows, historical metal work, interior centre hall plan, will be faithfully restored to their former glory. By integrating current passive house envelope strategies into the original double-wythe brick walls, foundations and roof assemblies, the century house will be infused with longevity and energy conservation technologies, sustaining the building far into the future.
As for the new four-storey addition, the design drives toward net-zero energy consumption. The mass timber structure, with all its embodied energy attributes, is milled and prefabricated locally. This structural skeleton is wrapped in a high-performance envelope employing the three pillars of passive house design: continuous air barrier, no thermal bridging and high insulation values.
The rear addition will include two underground garage levels topped by three floors of office, meeting room, kitchen and flex space. A fourth floor is planned to include a gym and yoga studio facing east with a clear view of beautiful Rosedale. By taking the longevity of the existing heritage house and marrying new durable construction materials and technology to it, Dancap is pushing the reborn building forward for generations to come.
Construction on 1067 Yonge Street began with the demolition of the rear addition on July 5, 2021. The project is expected to be completed in Summer 2025.
For upcoming activities surrounding site, including road closures, click here.
April to July, 2022:
Shoring and pile drilling
Excavation and lagging
Expect significant road disruptions as materials enter and exit the site.